16pt Flyers with Spot UV (Flyers & Postcards)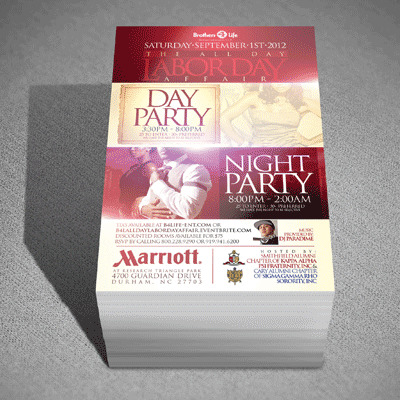 Spot UV Flyer Printing on Thick 16pt Matte Card Stock with Spot UV Gloss on One or Two Sides.
Printed on 16pt cardstock with matte finish and spot uv on one or two sides.
Available in increments of 1000 through 25,000.
Price listed is for printing of 1 design only. Sorry No order splitting.
Ready to ship in 5-7 business days *
Need a custom quote? Please fill out our custom Quote Form.
IF YOU ARE EXPERIENCING TROUBLE UPLOADING YOUR FILES, PLEASE EMAIL ARTWORK TO INFO@ELITEFLYERS.COM
Spot UV Flyers printed on 16pt matte finish card stock is the card you choose when you want to convey class. Spot UV printing increases the response to your flyer campaign to you clients. Elite Flyers has extensive experience in printing Flyers with spot-UV and we're ready to create your custom design using the highest quality raw materials on the market. See it, feel it, there is a big difference that top-quality spot uv flyers can make when your looking to impress clients.
Spot UV Flyer Printing frequently asked questions:
Why does Spot UV stand out? Spot UV coating is applied to only the area of your choice. The super shiny finish draws attention to certain printed areas and adds visual on the card's surface. Applying a spot UV coating to your final flyer printed pieces, you are elevating the beauty of your flyer when compared with regular standard flyer printing.
What does UV Coating mean? It means that ultra violet light is used to cure the coating.
What is Spot UV Coating? Spot UV as the application of a coating of UV in certain areas of the paper.
Spot UV Flyers are made from a durable stock and feature the ability for both sides of spot UV gloss. Our Spot UV Flyers are available in a variety of sizes, styles and colors and can be customized for your branding needs. You can even round the corners or send us your artwork for particular ideas you had in mind. These Spot UV Flyers will definitely turn heads and make your brand truly elite.
Extra Flyer Coating Effects
While Spot UV is an elite effect; there are a number of other custom printing effects like lenticular postcards or full color foil flyer printing that will make your job sparkle. These are other printing techniques that are different from spot uv flyer prints. Another great example of elite flyers are the soft touch velvet flyers with spot uv; these are just a step up from 16pt card stock matte flyers with spot uv. Basically matte finished paper stocks will also help this effect, but soft touch velvet flyers would also add value by creating its own unique feeling to the flyer.
24/7 Service & Support
info@EliteFlyers.com
Toll Free: (800) 538-8091
Size
Quantity
Price
1.5 x 7
1000
$ 115.00
2500
$ 200.00
5000
$ 235.00
10000
$ 385.00
15000
$ 515.00
20000
$ 615.00
25000
$ 750.00
View More