Playing Cards (Outdoor & Leisure)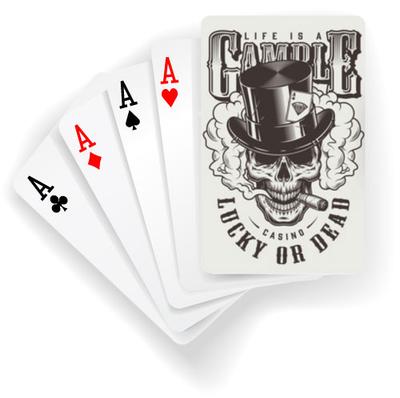 Custom Printed Playing Cards Printed in Full Color One Side on 11pt Playing Card Stock with UV Glossy Finish.
Digitally Printed on One Side on Playing Card 11pt Card Stock
54 Cards Per Deck Including 2 Jokers
Available in increments of 1, 2, 5, 10, 15, 25, 50 decks.
Available with UV Gloss finish on both sides.
Price listed is for printing of 1 design only. Sorry No order splitting.
Ready to ship in 5-7 business days *
Need a custom quote? Please fill out our custom Quote Form.
IF YOU ARE EXPERIENCING TROUBLE UPLOADING YOUR FILES, PLEASE EMAIL ARTWORK TO INFO@ELITEFLYERS.COM
Are you looking for a fun and unique way to promote your business or spread awareness for a cause? Then you're going to absolutely love our personalized playing cards! Your business's logo or branded image will be digitally printed on one side of each card! Not only that, but they also come with a snazzy UV glossy finish on both sides. Does that scream high-end or what? Potential customers will adore how amazing your logo looks on the back of the cards!
Each deck comes packed with 54 cards, including 2 jokers. They're available in increments of 1, 2, 5, 10, 15, 25, or 50 decks. If you're hosting a large charity or promotional event, these customized playing cards will be a dream come true for you.
On our website, submitting your company's logo or branded image is a breeze. Shoot it over to us and we'll get straight to work flawlessly recreating it on the cards! Are you not sure what your design should be like? Not a problem, our experts will design one from scratch for a tiny fee. We excel at creating memorable designs that stick out!
The quality of our digital prints is second to none. We also feature the quickest turnaround times in the industry, bar none! When you order our playing cards, we can have them ready for you in just 5-7 business days!
Not only that, but EliteFlyers features extremely competitive pricing. When you promote using us, you save a ton of time and money! Our playing cards are fun, affordable, and effective at spreading the word about your business or message.
If you're a magician, distillery, university, fundraiser, or Fortune 500 company, these custom poker cards can do wonders for you. After all, you'll be able to entertain the crowd and promote your business at the same time. That's what we call a true win-win!
24/7 Service & Support
info@EliteFlyers.com
Toll Free: (800) 538-8091
Size
Quantity
Price
2.25 x 3.5 - 54 Card Deck
1
$ 35.00
2
$ 50.00
5
$ 95.00
10
$ 150.00
15
$ 195.00
20
$ 235.00
25
$ 275.00
View More