Adjustable Wall Stand (Event & Trade Show)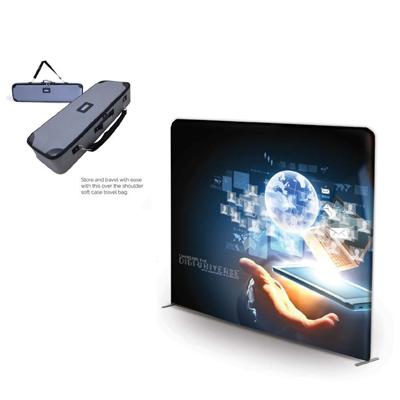 Adjustable Wall Stand with Full Color Advertisment Printed in Full Color.
Printed in full color on soft knit Polyester Fabric.
Available in increments of 1, 3, 5, 10.
Ships with one premium carrying bag.
10ft Adjustable from 1.5' to 10'.
20ft Adjustable from 1.5' to 20'.
Pillow case print slides over frame for easy installation and change of graphics
1 design only. Sorry No order splitting. (Separate images for each side acceptable.)
Ready to ship in 5-7 business days. *
Standard production cut off is 12pm eastern time.
Need a custom quote? Please fill out our custom Quote Form.
IF YOU ARE EXPERIENCING TROUBLE UPLOADING YOUR FILES, PLEASE EMAIL ARTWORK TO INFO@ELITEFLYERS.COM
Adjustable Wall Stand: Create your own portable billboard with our Adjustable Wall Stand! You choose between a 10ft or 20ft display, and both are printed on a pillow case print that slides easily over the frame for fast and smooth setup. Your message will be printed in full, captivating color on a soft knit Polyester Fabric and we can print your larger than life advertisement in full color on 1 or 2 sides. Both the 10ft and 20ft options are adjustable all the way down to 1.5ft tall. Our Adjustable Wall Stand comes with a premium carrying bag and is available in increments of 1, 3, 5, or 10.
If you have any other questions or need assistance, please contact us directly.
24/7 Service & Support
info@EliteFlyers.com
Toll Free: (800) 538-8091
Size
Quantity
Price
20ft Wall Stand
1
$ 2,865.00
3
$ 8,420.00
5
$ 14,035.00
10
$ 26,955.00
10ft Wall Stand
1
$ 1,560.00
3
$ 4,585.00
5
$ 7,650.00
View More