15pt Synthetic Menus (Restaurant Menus)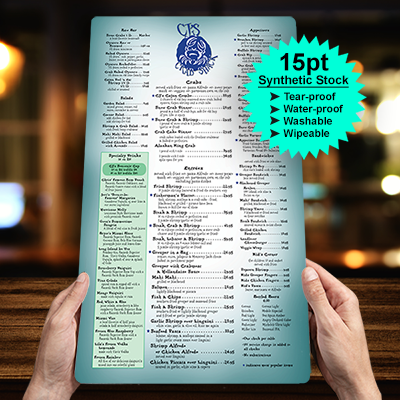 Restaurant Menus Printing - Thick 15pt Synthetic Stock Printed on thick materials - give menus a water proof feature.
Printed in Full Color on Premium All Weather 15pt Synthetic Card Stock.
Tear and Weather Proof.
Washable / Wipeable
Available in increments of 10, 25, 50, 75, 100, 250, and 500.
Available with UV Gloss Only.
Price listed is for printing of 1 design only. Sorry No order splitting.
Ready to ship in 5-7 business days *
Need a custom quote? Please fill out our custom Quote Form.
IF YOU ARE EXPERIENCING TROUBLE UPLOADING YOUR FILES, PLEASE EMAIL ARTWORK TO INFO@ELITEFLYERS.COM
Restaurant Menus printed on 15pt synthetic stock are the menus you want to use when you want to make a lasting impression. Comprised of Specialty Materials, these menus have a tear and Weatherproof feature that will allow them to last for years. These premium quality menus are printed in full color on 15pt all whipable/washable synthetic stock with a UV Gloss Finish. Order your 15pt All Restaurant Menus Today!
24/7 Service & Support
info@EliteFlyers.com
Toll Free: (800) 538-8091
Size
Quantity
Price
8.5 x 11
10
$ 95.00
25
$ 175.00
50
$ 275.00
75
$ 400.00
100
$ 480.00
150
$ 580.00
200
$ 705.00
View More