Wristbands - Silicone Wristbands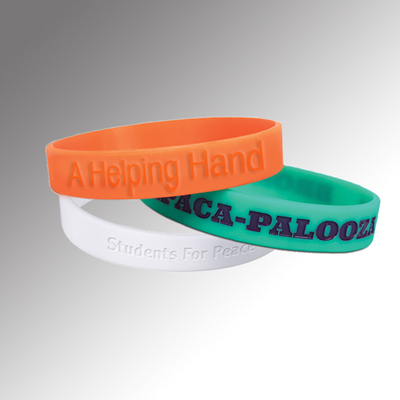 Silicone Wristbands customized with options including, emboss, deboss, and screen printing on a color silicone band of your choice

.
100% Silicone band with Emboss, Deboss, or Screen Printing.
Available in increments of 50.
Fashionable, For use in all elements, Ideal Gift.
1 design only. Sorry No order splitting.
Ready to ship in 12-14 business days. *
Sequential numbering may add 1-2 business days to the production turnaround.
Need a custom quote please fill out our custom Quote Form.
IF YOU ARE EXPERIENCING TROUBLE UPLOADING YOUR FILES, PLEASE EMAIL ARTWORK TO INFO@ELITEFLYERS.COM
Silicone wristbands are a great way to quickly spread your message and create a feeling of togetherness during public and corporate events. Like any other wristband, silicone wristbands carry your message or slogan and can be worn on the wrist by attendees as card card-body as the staff. Custom printed silicone wristbands also make it easier to recognize team members during public events and political or awareness campaigns.
At Elite Flyers we can custom print 1/2" and 1" silicone wristbands for with options like emboss, deboss, or screen printing for parties, fundraising events, political campaigns, school and college functions, concerts and conventions, birthday parties, corporate events, amusement parks, sports stadiums and night clubs. We have printed silicone wristbands for a wide spectrum of clients, including people and businesses organizing or managing sports clubs, rallies, outings and camping expeditions, shopping malls and cinema halls, paint ball tournaments, themed wedding receptions and advertising & branding campaigns.
Elite Flyers is a reliable customized silicone wristband printing provider. Along with a custom message or slogan using your preferred font and color, we can also print your logo on the wristband to maximize the impact of your awareness effort. We provide the best possible custom printing options when printing silicone wristbands. Contact us today so we can create custom wristbands specially designed for your business or event.
24/7 Service & Support
Info@EliteFlyers.com
Toll Free: (800) 538-8091
Size
Quantity
Price
1" Adult Band
50
$ 225.00
100
$ 250.00
200
$ 275.00
300
$ 335.00
500
$ 445.00
1000
$ 625.00
View More