28pt Silk Full Color Foil (Business Cards)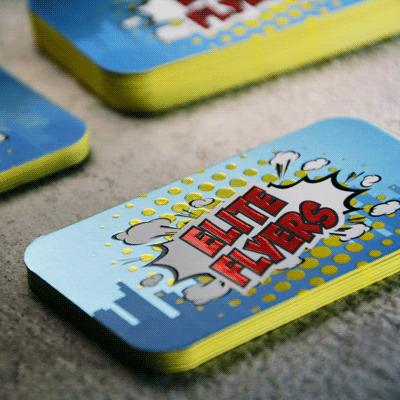 28pt Full Color Foil Business Cards with a Silk

Lamination

are Printed

with an Array of Options Including Foil, Deboss, and Painted Edges

.
Printed on 28pt

Silk

Laminated Card Stock

Available in increments of 250, 500, and 1000.

1 design only. Sorry No order splitting.

Ready to ship in 12-14 business days *

Turnaround for this product is estimated only. Additional options may increase the production turnaround.

Need a custom quote? Please fill out our custom Quote Form.
IF YOU ARE EXPERIENCING TROUBLE UPLOADING YOUR FILES, PLEASE EMAIL ARTWORK TO INFO@ELITEFLYERS.COM
28pt Full Color Foil Business Cards with a Silk Lamination are the business cards that impress our print pressmen. These exclusive printed business cards come with an array of specialty options including rounded corners, foil, deboss, and painted edges to create a business card that is truly unforgettable. These foil business cards are the ones that people demand, but only the aristocrats have to pass out. If you want to be the A-list businessman or woman that really stands out, Elite Flyers 28pt Full Color Foil with Silk Lamination Business Cards are a sure to give your image that super-wow effect. Order your custom printed 28pt Full Color Foil with Silk Lamination Business Cards from Elite Flyers today!
Tips and Tricks for printing full color foil business cards: Our most common question is: What types of files should I upload or email for full color foil business cards? We recommend saving your full color business cards as a .pdf or .jpg file. We prefer that you send .pdf and .eps files with outlined fonts. These files are easy and will speed up your printing process. Always remember to have "bleed" meaning keep all text in and anything that is important away from the edges. Always flatten your files before uploading. When creating the "second file" the mask file for the foil printing process; Please remember everything that is black will be in full color foil and everything that is white will be in flat color. Note: Anything that is white on the full color foil layer will be printed as silver.
24/7 Service & Support
info@EliteFlyers.com
Toll Free: (800) 538-8091
Size
Quantity
Price
2 x 3.5 (Standard)
250
$ 185.00
500
$ 200.00
1000
$ 215.00
2.125 x 3.375
250
$ 185.00
500
$ 200.00
1000
$ 215.00
2.5 x 2.5
250
$ 200.00
View More