Embroidered Sport Shirts (Apparel & Accessories )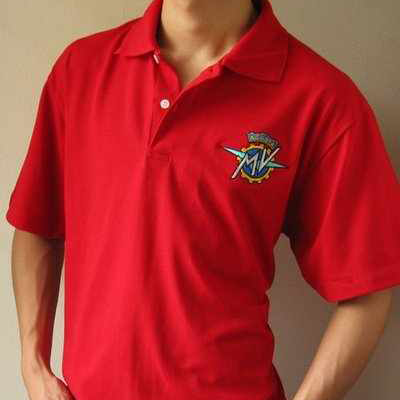 Custom Embroidered Shirts with Company Logo on IZOD Men's Classic Sport Shirt in Color Of Your Choice.
Your price includes a color embroidery on the left chest, sleeve, or back yoke.

Available in an array of sport polo shirt colors Made with 100% cotton 6.5 ounce classic cotton (sport gray is 90/10 cotton/polyester).

Sizes S-XL Maximum number of thread colors 12

1 time logo digitizing fee + $75.00

Orders must be received by 1 PM, EST, and artwork approved by 3 PM, EST, Monday-Friday (not including holidays).

Ready to ship in 12-14 business days *

Need a custom quote? Please fill out our custom Quote Form.
Embroidered Sport Shirts: Wear your brand on your chest with our Embroidered Sport Shirts. We start with a quality IZOD Men's Classic Pima Pique Sport Shirt in the color of your choice. Add color embroidery for your logo or design on the left chest, sleeve, or back yoke. Our Embroidered Sport Shirts are available in sizes S-XL and are 100% 6.5 oz cotton. Once your logo is digitized the embroidery of the dress shirts will take 12-14 days depending on the stitching and quantity.
Tops Reasons for choosing Embroidery:
- Flexible breathable fabrics
- Limitless chaise and designs
These custom work shirts are great for any corporation, doctor's or dentist office. You've found the perfect work shirt for your company crew, now you want to add your logo! Customizing with embroidery allows you to create a really professional look without breaking the bank. The embroidery will outlast the work shirt and will be an affordable way to create a uniform for your pit crew, office staff or company. Uniform companies can cost you thousands a year, these cheap custom work shirts will save you money that you'll be able to afford new ones when they get stained after years of wear. Your crew will look great in any of these quality work shirts embroidered with your logo.
If you are looking for a more cost effective work shirt; Please check out our silk screen shirt printing page. Here you can find 24 shirts starting at $180. All the guys and girls will look great in their new next level custom printed shirts for the crew. There are many colors of shirts to choose from in the silk sceen printing section.
Embroidery Frequently Asked Questions:
What is Embroidery? Embroidery is decorating fabric or other materials using a needle to apply thread.
How do I know how many stitches are in my artwork? Send your image along with quantities, time you need it by, to info@eliteflyers.com You will receive a response within 24 - 48 hours of your submission with the stitch count, or advising you that more time is needed in order to have our digitizer 'trace' it for accuracy in stitch count.
What is your turnaround for Embroidery? Our turnaround time for embroidery is between 12-14 business days for normal orders. We do offer rush embroidery printing services depending on the complexity of the job. Every order is different, we do our best meet your deadline needs.
Do you offer digitizing? Yes, we offer the elite quality in-house digitizing services. We can take your logo and create a custom digitized logo in no-time.
What size can you embroider? We have the capability to embroider 11" wide by 11" tall. This is great for for the backs of jackets and/or sports team jerseys, etc.
24/7 Service & Support
info@EliteFlyers.com
Toll Free: (800) 538-8091
Size
Quantity
Price
4 x 4 - Max Size
12
$ 335.00
24
$ 635.00
36
$ 895.00
48
$ 1,145.00
60
$ 1,395.00
72
$ 1,645.00
84
$ 1,865.00
View More