80lb Book Booklets (Booklets & Catalogs)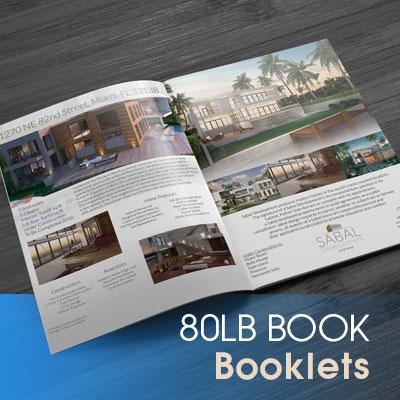 Booklets Printed in Full Color on Premium 80lb Book Magazine Style Stock with Aqueous (AQ) Gloss and Saddle Stitch Binding.
Printed on 80lb Book magazine stock.
Available in increments of 500, 1000, 2500, and 5000.
Available with Aqueous AQ Finish.
1 design only. Sorry No order splitting.
Ready to ship in 5-7 business days. *
Standard production cut off is 12pm eastern time.
Need a custom? Quote please fill out our custom Quote Form.
IF YOU ARE EXPERIENCING TROUBLE UPLOADING YOUR FILES, PLEASE EMAIL ARTWORK TO INFO@ELITEFLYERS.COM
80lb Book Booklets: When you need to convey a little more information, let our 80lb Book Booklets be the medium for your message. Booklets are printed in full color on premium 80lb Book-Magazine-Style Stock with a rich Aqueous (AQ) gloss finish. Finished with a saddle stitch binding, our 80lb Book Booklets are available in quantities of 250, 500, 1000, 2500, and 5000. With options ranging between 8 and 52 pages, you have the freedom to say as little or as much as you'd like.
24/7 Service & Support
info@EliteFlyers.com
Toll Free: (800) 538-8091
Size
Quantity
Price
8.5 x 5.5 - 8 Page
500
$ 515.00
1000
$ 545.00
2500
$ 775.00
5000
$ 1,155.00
10000
$ 1,735.00
15000
$ 2,215.00
20000
$ 2,705.00
View More