Web Design (Graphic Design)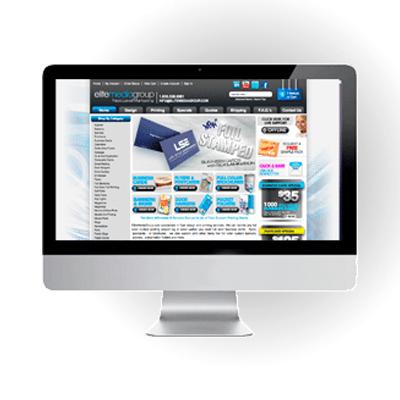 Web Design - Hire us to create your Web Banners, Website or Onling Shopping Store.
Price includes design of 1 design with unlimited revisions until artwork is approved.
Design Turnaround is typically 5-7 business days until receipt of initial proof. * (can vary based on complexity of project)
Cut off time is 12pm eastern time to count that day as a production day.
Need a custom quote? Please fill out our custom Quote Form.
IF YOU ARE EXPERIENCING TROUBLE UPLOADING YOUR FILES, PLEASE EMAIL YOUR FILES AND DESIGN INSTRUCSTIONS TO INFO@ELITEFLYERS.COM
The hands-down simplest and most effective way to draw more customers to your website and increase your profits is to optimize your webpage. Search engine optimization, also known as SEO, makes your website more accessible from Google, Yahoo, and other search engines, meaning that it moves your site toward the top of search results when a user searches keywords that relate to your product or services.
There are a number of factors that contribute to making your website optimal for potential customers to find and explore. One of the most important SEO aspects is the keyword density of your page. In addition, HTML tags, including title tags, alternate image tags ("alt tags") and meta tag descriptions, play a large role in increasing the search engine optimization of your site.
Other points to consider include whether the images on your page are too large or too numerous, which might make your site difficult to view or slow to load for users with slow internet connections. Although many think images will enhance their sites, overdoing it could potentially backfire and drive traffic away from your website. The same goes for video content. On the other hand, a clear and user-friendly site map and easily navigable page make for a great, user-friendly website experience and will keep browsers interested in your page long enough for you to make sales.
Here we'll look at a few key elements of extremely successful SEO marketing strategies, and how EliteFlyers.com can help you maximize your benefit in each area.
Content and Keyword Optimization: The content of your site should obviously be interesting and card card-body written. But it's also extremely important that it contains keywords at a density that will make it optimal for search engines to recognize as relevant. Elite Flyers has the data on-hand to ensure your keyword density is optimal for search engine friendliness, which in turn will make your site more popular and grow your profits accordingly.
Title Optimization: One of the most important HTML tags on your site is the title tag. Elite Flyers knows how to design your title tag for search engine optimization. We create a concise and descriptive title tag including keywords known to attract the maximum number of potential customers to your website.
Meta Tag Optimization: Other contributing factors in the optimization of your page are the meta tags in your site's HTML code. Elite Flyers can make sure these are relevant to your business and effective at drawing the right people in and ultimately making you sales.
HTML Tag Optimization: Among the most effective SEO strategies to totally optimize your page are intelligent and effective HTML tags. Search engines rely heavily on HTML header tags, and Elite Flyers knows how to make these all-important tags stand out to search engines through the use of bold, italicized, and underlined text. Elite Flyers listens to you, the customer, for information on what your business's strongest selling points are. Then we take those ideas and translate them into keyword optimization that in turn translates to sales for you!
Link Optimization: Elite Flyers knows the significance of having deep links, backlinks (or incoming or inbound links), as card card-body as internal links directing toward your site. Our experts make good use of anchor text with the right keywords to make sure we also cover outbound links.
Video and Image Optimization: Elite Flyers professionals will ensure your site is SEO optimized with regard to its images and videos as card card-body. They use special tags to make sure these visuals are picked up by web crawlers, which can increase the visibility and the online presence of your site. We can also advise you in the case that your video content is too long or otherwise not ideal for creating traffic and sustaining interest.
Elite Flyers offers superior SEO services for your website, in addition to offering you other fantastic marketing solutions like our business card and flyer printing and direct mail services. We also offer World Wide Web Consortium (W3C) compliance services, can submit your site to Google Webmaster, upload robots.txt files, and more! Elite Flyers is your one-stop shop for all your SEO, printing, and design needs!
24/7 Service & Support
info@eliteflyers.com
Toll Free: (800) 538-8091