Direct Mailing Campaigns (Mailing Campaigns)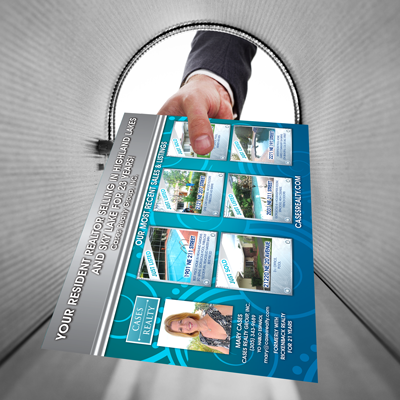 Direct Mailing Campaigns Printed in Full Color on 16pt Card Stock, and Direct Mailed to a Customer List.
Printed on 16pt card stock.
Prices include printing, postage and fulfillment.
Option for first class or standard postage.
First class postage must meet USPS mailing requirements.
1 design only. Sorry No order splitting.
1 mailing list only. 1 list, no tabs.
Printing Turnaround is 3-5 business days. *
Fulfillment Turnaround is 1-3 business days. *
Postage Delivery Turnaround is in Addition to Production Turnaround.
Standard production cut off is 12pm eastern time.
Need a custom quote? Please fill out our custom Quote Form.
IF YOU ARE EXPERIENCING TROUBLE UPLOADING YOUR FILES, PLEASE EMAIL ARTWORK TO INFO@ELITEFLYERS.COM
EDDM® Mailing Campaigns:
These postcard mailing campaigns target a specific area with Every Door Direct Mail EDDM®, this covers an area rather than a customer list. This gives businesses the potential to reach every home in a certain radius of their store, realtors the ability to target the specific neighborhoods they like to sell in, or delivery restaurants the capacity to reach every home in their delivery area. With EDDM® Mailing Campaigns, your message is printed in full, captivating color on 1 or 2 sides of thick 16pt card stock and finished with your choice of UV Gloss, Matte finish, or one side of each. Prices include printing, postage, and fulfillment and we do offer an option for EDDM class postage.
Elite Flyers popular sizes for EDDM® postcards:
We provide a large selection of designs just for print too. This ensures your printed postcard matches every design and label requirement. Direct mail postcards are available in finishes like matte, gloss and high-gloss UV. Use the standard EDDM® retail indicia on your artwork file and together this allows you to create quality postcards in your Every Door Direct Mail Campaigns. Compliant sizes and formatting that suit whatever artwork you have.
Learn how to utilize every aspect of our route selection tool. Our guide selects routes based on Zip Code, residential and/or business addresses.
How to create effective Direct Mail material:
Stick to one main purpose for your EDDM® postcard. Are you promoting a new product line or store opening? Are you a realtor announcing your next big open house? Or do you simply want to say "hi" to both old and new customers? Decide on your postcard's central message and design every element to serve this purpose. To start designing you can download one of our templates.
KISS Keep it simple silly - The simpler postcard / flyer, the better: You probably have a lot to say but a simple message comes out clearer. Focus on the purpose of your direct mail postcard. Otherwise, you distract customers with information that may get in the way of your end goal or call-to-action. Make sure everything on the postcard leads and helps the recipient toward the desired action.
Elite Postcard Designs: Your postcard needs to do more than look nice; it needs to be elite. The message should appeal to your demographic and be readable in one glance. A message must be clear so the EDDM® postcards serve a purpose. The message should lead your recipient into action to log on or call you. You can also personalize postcard and images according to your chosen demographic. Use graphic designs, colors, tones, and images to match so it can appeal to your market.
Elite Flyers has simplified the Every Door Direct Mailing Process. If you need Direct Mail Services; please contact us to review your mailing projects. We also print in bulk with different flyers sizes with low printing prices.
If you have any other questions or need assistance, please contact us directly.
24/7 Service & Support
info@EliteFlyers.com
Toll Free: (800) 538-8091
Size
Quantity
Price
4.25 x 5.5
500
$ 425.00
1000
$ 682.50
2500
$ 1,410.00
5000
$ 2,465.00
10000
$ 4,475.00
15000
$ 6,715.00
20000
$ 8,925.00
View More