Hand Fans (Outdoor & Leisure)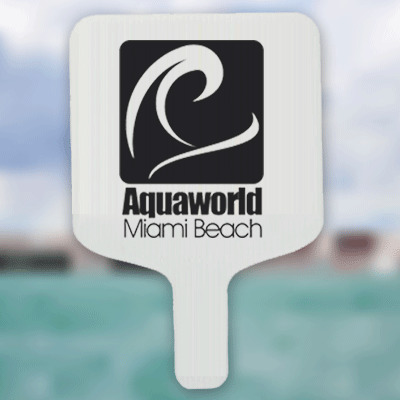 Hand Fans Screen Printed in One Color on a die-cut 4mm Corrugated Plastic Hand Fan.
Screen Printed in One Color on a 4mm Corrugated Plastic Hand Fan.
Available in increments of 100, 250, 500, 1000, 2500 and 5000.
Imprint size: 7"W x 6-1/2"H
Hand Fan size: 8" x 12
Price Includes Printing on 1 side. 2nd side for Higher Cost.
1 design only. Sorry No order splitting.
Ready to ship in 7-10 business days. *
Standard production cut off is 12pm eastern time.
Need a custom quote please fill out our custom Quote Form.
IF YOU ARE EXPERIENCING TROUBLE UPLOADING YOUR FILES, PLEASE EMAIL ARTWORK TO INFO@ELITEFLYERS.COM
Elite Flyers now offers custom printed handheld fans; an amazing advertising and promotional tool that is as cool as the air they move. Promotional handheld fans are the perfect carousel-item to pass out to patrons at a variety of events during the heat of summer. Those who have them will be appreciative and those who don't but observe from afar will covet your fans, and simultaneously receive your message. We have heard time and time again of people asking someone at an event "Where is the Elite Flyers representative, because I want one of those fans!" You can't argue with the fact that custom printed handheld fans from Elite Flyers will lead to sales!
Handheld fans are not just great for advertising and promotion. They are also perfect to have on hand in general, at churches, schools, conventions and outdoor venues. Fans also make a great party favor at weddings, anniversaries, school reunions and family reunions. Unlike much of the competition, Elite Flyers refuses to print with anything less than top shelf machinery, raw materials and ink. Our custom printed handheld fans are printed on high quality 4mm corrugated plastic stock. There is plenty of room for logos, images and text because of the large 8" fan surface
If fast turnaround, competitive pricing, friendly support, reduced shipping costs, and high quality are requirements for your customized handheld fan project, choose Elite Flyers and you will not be let down. Need help with your design or layout? Just click the design your own tab or get in contact with one of our cost-effective and experienced graphic designers. If you prefer to do your own design, feel free to download our template and directions to help get your job prepared for optimal printing. Ready to order now? The Elite Flyers secure ordering system allows you to select your options, upload your files, check out quickly and hit the printer as early as tonight!
If you have any other questions or need assistance, please contact us directly.
24/7 Service & Support
info@EliteFlyers.com
Toll Free: (800) 538-8091
| Size | Quantity | Price |
| --- | --- | --- |
| 7 x 6.5 Imprint Area | 100 | $ 300.00 |
| | 250 | $ 325.00 |
| | 500 | $ 500.00 |
| | 1000 | $ 835.00 |
| | 2500 | $ 1,765.00 |
| | 5000 | $ 3,450.00 |